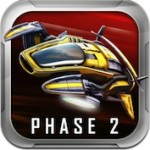 I always end up surprising myself with what games I end up really clicking with on iOS. Despite not even being a full-blown racing game, I've been dumping a ton of time into Pixelbite's Repulze ($0.99). It was more a time trial game than anything, but with its killer sense of speed, fantastic visuals and great controls it was one game I had a hard time passing up on when I'd be flipping through my iPhone's home screens. I actually kind of appreciated the fact that Repulze was so laser-focused on doing just one thing, and doing it well. It's the same reasons I keep coming back to games like Temple Run 2 (Free) or Doodle Jump ($0.99), even though games in similar genres might offer more features or content. I think I'm just an arcade gamer at heart.
However, Repulze looked an awful lot like Sony's beloved futurisitc racing series Wipeout, and a lot of people were expecting a whole lot more out of the game. At the very least, actual opponents on the track along with you which you could race against. Pixelbite did add a bunch of new tracks and features in their most recent update, but people were still clamoring for actual racing opponents, and maybe even some weapons to blast them off the track with. You know, a little more Wipeout-style.
Well, ask and you shall receive as the upcoming Phase 3 update to Repulze will add both on-track opponents as well as a new weapon system. Pixelbite has detailed some of this update on their blog, and the weapon system actually sounds really ingenious. It uses the 3-tier gate system that's already built into the game, which we've detailed in our review. Filling up the first tier of the meter will allow you to launch a light weapon, the middle tier gives you a medium powered weapon, and the third tier gives you a powerful weapon like rockets to launch at your enemy.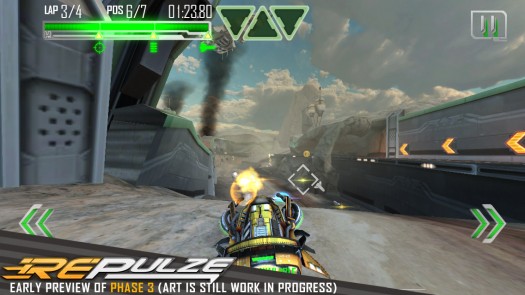 Of course, because they use the same system, you'll need to decide if you'd rather keep some boost around to try and win the race or use up your reserves as weapons to take out your opponent. It seems like a really smart system. The screen above is from an early version of Phase 3, and Pixelbite stresses that it's not final yet, but you can see the added level of mayhem that having opponents and weapons tossed into the mix should provide. We'll let you know when the Phase 3 update to Repulze hits, which hopefully should be in the fairly near future.