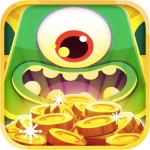 Stop everything and go grab Super Monsters Ate My Condo (Free). It's a great game, and it's free right now on the App Store. It usually goes for a buck, so you're saving a little bit dough here if you mash the download button.
If you didn't know, Super Monsters is a frantic puzzle game that plays a bit like Jenga mixed with a traditional match-three. In the game, you swipe blocks from a multi-tiered and multi-colored condo and feed them to a duo of monsters. The blocks left slide down, and if they match, the game awards you points. Eventually, sets of matched blocks form newer, single blocks that you match for even more points.
In addition to being awesome, this was one of the first iPhone 5 games we fell in love with. If you're still looking for a good "tall phone" game, this is it.