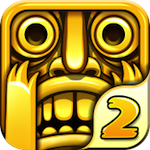 In mid-January Imangi Studios surprise released Temple Run 2 (Free), the sequel to the 170 million+ selling behind-the-back runner that started it all: Temple Run. It amassed 6 million downloads in just the first 24 hours of its release, and went on to total 20 million by the end of its first weekend of being available, news that kind of blew us away when we heard it.
Well, this is even more impressive. About a week after the iOS launch of Temple Run 2, the game landed on the Google Play Store for Android and the Amazon Marketplace for the Kindle, where it was also quickly devoured by hungry Temple Run fans. Yesterday, just 13 days after the initial release of Temple Run 2, Imangi announced that they had broken the 50 million download mark across all three platforms collectively, making it the fastest growing mobile title in history.
The previous holder of that honor was Angry Birds Space early last year which hit the 50 million mark after just 35 days of being on sale. While I think it's not entirely the same thing comparing a paid game like Angry Birds Space with a free title like Temple Run, I still can't help but be completely impressed with how popular the new Temple Run has turned out to be.
I mean, not that it shouldn't be or anything. We thought it was fantastic in our review. But 50 million copies downloaded in less than two weeks is just insane. It'll be interesting to watch if it can keep up its momentum and where it will go from here, but needless to say Temple Run 2 is another massive success, and if you haven't yet given it a look then you should definitely get on that.