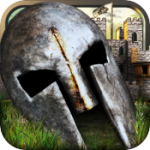 Heroes and Castles ($1.99), Foursaken Media's visceral blend of 3rd-person action and castle defense, is already getting a huge content update, the studio has revealed.
First up is a brand new Siege mode that flips the script on the regular game and has you playing as the Evil forces trying to assault and take down the castle's defenses. This leads right into a new competitive multiplayer mode, where one player is Good and defends the castle and the other is Evil and tries to break through the defense.
This new competitive multiplayer mode will complement the current cooperative game style, and it sounds like a ton of fun. The Evil faction will come with four new classes of hero as well as their own unique economy system.
There are two new heroes coming to Heroes and Castles too. One is the Elven Ranger, which you can see below, and the other will be a Mage character. The current heroes will also be getting alternate skins, one of which you can also see below for the Knight.
On top of all the new content, Heroes and Castles is also getting a ton of all around fixes, but specifically in the area of making the cooperative and endless modes more stable. If you're curious to hear more on Heroes and Castles, then check out our review of the game or our forums for discussion from the community. This latest update has already been submitted so look for it to hit within a week or two.