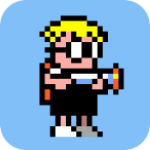 In early December, Renegade Kid ported their popular and critically acclaimed platformer Mutant Mudds ($4.99), originally a Nintendo 3DS title, to the iOS platform. As we talked about in our review, it was quite a success. While the original price of the iOS version was the lowest tier possible at 99¢, a veritable steal, for today and tomorrow only Mutant Mudds can be had for the even more enticing price of FREE.
Mutant Mudds is somewhat of a different kind of platformer. For the most part, iOS is populated with twitchy speedrun-style platformers, often with a focus on very brief levels and fast action. Mutant Mudds is more of a tactical game, I would argue. You really need to have patience to work your way through its levels and past the dastardly Mudds. A simplistic item upgrading system gives the title legs as you go back through previously played levels and use your new abilities to discover alternate paths. Also, a big highlight of Mutant Mudds is the ability to hop in and out of the foreground and background, something that's mostly just neat but also plays into the puzzle and discovery design of the levels.
I love platformers, and I love a lot of iOS platformers, but to me there's really nothing quite like Mutant Mudds on the App Store. It was a wholly satisfying experience working my way through the game, and it's also quite challenging. The virtual controls hold up well though, and its slower pace is a perfect complement to my other twitchy platformers that also have a permanent home on my device. Definitely give Mutant Mudds a download while it's free, and stop by our forums to let us know what you think.