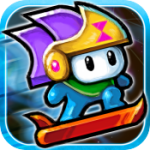 Today I got together with Brad to try and help him work through his bloated feelings and meat sweats by sitting down and playing Time Surfer ($0.99), the brand new game from Kumobius, developers of the excellent bouncy platformer Bean's Quest ($2.99). Time Surfer takes the hill bounding mechanics of Tiny Wings ($1.99) and games of that ilk and adds a cool Braid-like rewinding mechanic. If you screw up don't sweat it – just back up time a bit and give it another try. Your rewinding time is limited though, so you can't solely rely on it to get you out of every sticky situation, but it's a neat mechanic that fits in really well with this kind of endless arcade game.
Time Surfer also looks a treat. It reminds me a lot of Punch Quest (Free) with its pixely style, bright flashing colors, and sheer insanity. In fact, I've heard people in our forums and elsewhere describe Time Surfer as "Tiny Wings on crack." Put that one on the back of the box, would ya? It's really quite fitting though. There are a ton of cool items and enemies to run across in Time Surfer, as well as an eclectic cast of playable characters and an assortment of silly pets to aid you in your quest by offering special abilities.
It all clicks very nicely, and I've been having an excellent time playing Time Surfer so far. Check out the video below, and if you're digging it too you can snatch up the game with the link at the bottom.