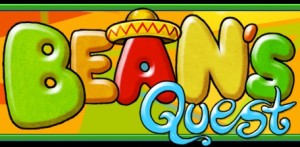 Bean's Quest [$2.99] from Kumobius launched in July of last year, and it was kind of awesome. Actually, it was kind of really awesome. It was just one of many platformers on the App Store that nailed the neo-retro aesthetic, harkening back to the days of 8 and 16 bits. However, there was one key element that separated it from other iOS platformers – you're constantly bouncing. Picture a sideways Doodle Jump mixed with Super Mario Bros. 3 and you kind of get the idea.
The automatic nonstop bouncing was easy enough to get used to if you're just trying to make it through the game, but the real brilliance of Bean's Quest was that it kept track of the number of your bounces and tasked you with completing each level within a certain number of them to maximize your reward. Along with diamonds and a hidden toy creature that had to be collected, Bean's Quest had come up with an excellent little system for maximizing replay value.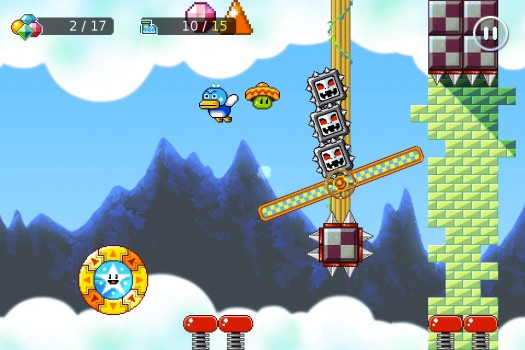 But, you can read all about this stuff in our original review of Bean's Quest, and there you'll also find our biggest issue with the game – its severe brevity. At release, Bean's Quest was a mere eight levels long, all of which could be completed together in just a few minutes. Developer Kumobius had promised that more levels were planned for updates, and in fact seemed to have a pretty ambitious road map for where the game was heading. But as I'm sure many of you have experienced before, it can be dangerous buying a game based on promises of future updates.
However, an update the following month did appear, and added a whole new world with 9 new levels. Then the month after that another update hit adding yet another new world and 10 brand new levels. Bean's Quest was finally starting to get fleshed out, but for the following several months things went quiet, with no new updates and an "Under Construction" banner in the level select screen teasing that the game still had yet to be finished.
Today, we found out just what Kumobius had been up to for so long as the final massive update to Bean's Quest has hit the App Store. This time around, the game is getting two new worlds – Dusty Desert with 10 new levels and Wizard's Lair with 12 new levels. There's a new intro movie now too, which explains the all-to-frequent problem of having your girlfriend stolen by an evil dude, setting the stage for Bean to traverse the crazy levels and lands. At the end of it all, you'll square off against the final boss, and then the credits roll, signaling the end of Bean's Quest.
It's sad seeing the end of such a fun game, but there's a positive side to this as well. Bean's Quest has done well enough that Kumobius is able to push forward with a new project, which I'm sure we'll be hearing more about once the time is right. It's crazy to think how far Bean's Quest has come, initially offering a meager 8 levels and now with today's update boasting 50 including the final boss fight. Aside from those major additions, this update also tightens up some UI elements and eases the difficulty of bounce requirements across the board, as well as lots of other minor tweaks and optimizations.
If you initially passed on Bean's Quest because of its length, then I think it's safe to say you've got nothing to worry about any more. It's a fantastic platformer that puts a twist on the gameplay of more traditional platformers, while offering a huge amount of replay value and an overall stellar presentation. Definitely one that was high on the recommendation list before, and even more so with this new update.