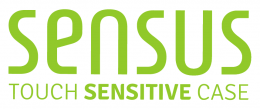 Hey, in case you were not aware, the 46th annual Consumer Electronics Show is kicking off this week in Las Vegas, and there's already plenty of news pouring out from the Nevada desert. One thing that caught our eye is the Sensus touch-enabled iPhone case from Canopy.
The Sensus was actually unveiled at GDC Online last October, but with a planned release in the first half of 2013 Canopy is giving CES attendees the chance for some hands-on time with the interesting case. You can see the kinds of things Sensus will be capable of in this newly-released promotional video.
The Sensus comes equipped with capacitive touch areas on the back and sides of the case, with the goal being to keep you from obscuring the screen when playing games or just generally using your device. Obviously developers will need to build support for the Sensus into their games and apps, but there will be a free SDK available and Canopy says that support for the case can be added in "mere minutes."
The Verge had some hands-on time with the Sensus, including a short video, and seemed to be pretty impressed with how it worked. The iPhone 4/4S and iPhone 5 should be getting their Sensus case by this summer, with plans for iPod touch and iPad cases to follow.