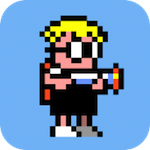 Mutant Mudds 2 is a thing that's happening, Renegade Kid co-Founder and director Jools Watsham confirmed the other day on Twitter. And it's probably coming to iPhone, iPad, and iPod touch. "We do not have any dates yet on when Mutant Mudds 2 will be released," Watsham told us via e-mail this morning. "But, I think it is safe to assume that it will land on a few platforms, including iOS devices." Neat!
The original Mutant Mudds ($4.99) made its way to iPhone and iPad this December after debuting on the Nintendo 3DS eShop last January. Working off what we've heard, it's probably safe to speculate we'll see a bit of lag time between wherever Mutant Mudds 2 lands first and where it hits second, kinda like with the first game.
Mutant Mudds, by the way? Pretty good. We took a look at it last year, and really dug how it played with depth. Check it out if you haven't yet.