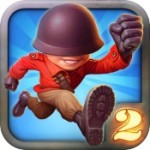 It seems like Subatomic and Halfbrick are on the same page lately, as both companies released an update last week for the iPad versions of their game which have finally come to the iPhone versions this week. One week ago today, Fieldrunners 2 HD ($4.99) was updated with a couple of new towers as well as two new Christmas-themed power-ups. Today those items have come to Fieldrunners 2 ($2.99) on the iPhone, along with widescreen support for the iPhone 5.
I get unreasonably excited when my favorite games get widescreen support. I totally appreciate the fact that non-widescreen games can run on the iPhone 5 with borders rather than not run at all, but just like with playing iPhone games in 2x on the iPad it gets old not having a truly native version of a game or app for your device. And it seems like every day my list grows longer for games I wish to get widescreen updates.
Anyway, if you've been holding out on digging into Fieldrunners 2 waiting for widescreen support to come (I know some of you out there have been), then now is the time to update and get to playing. Oh, and one of the two new towers will run you an unusually high price to unlock in-game, but with good reason. Just like with the iPad version, Subatomic has a new lite version of Fieldrunners 2, and if you download and install it you can unlock the new Polymorph Tower totally for free. So be sure to do that and save yourself some in-game scratch.
One more thing. As a special bonus both the iPhone and iPad versions of Fieldrunners 2 are currently on sale, with the former available for 99¢ rather than its normal $2.99 and the latter down to $2.99 from its regular $7.99. Be sure to take advantage of these sales while they last, and hit up our Fieldrunners 2 review or the thread in our forums for more on this fantastic tower defense game.