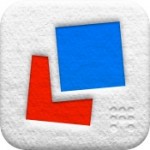 Easily one of my favorite games this year is Atebits' Letterpress (Free), an asynchronous online word battling game. Now, I enjoy word games just fine but I often lose interest in them quickly, or get frustrated staring at a game board for ten minutes racking my brain to think up the longest, most elaborate word possible. Letterpress changed all that because it's not just about playing the words, but playing the board itself in a highly strategic battle of territory against your opponent. We get into all that in our full review of Letterpress, if you're curious.
Anyway, this week brought an exciting new update to the word game, most prominently adding a new replay feature. It's actually really brilliant. At any time, even if a game is still in progress, you can hit up the in-game menu and choose a new "Share Replay" option. From here you can share a link via email, text/iMessage, Facebook or Twitter, or just copy the link to your device's clipboard for pasting into Safari or wherever. The link takes you to a beautiful little HTML5 replay of your current or completed game. There's a slider that allows you to look through every move made thus far, or you can tap on the played words in a list below the replay to jump straight to when that word was played in the game.
It's an extremely clever way to relive some of your greatest triumphs and defeats, or to share with others any particular game you like. Here is a fairly lengthy game I've been playing for the past couple of weeks that's still in progress, if you want to check out what a replay looks like firsthand. Simply open that link in your browser on your computer or device, manipulate the slider to scroll through the game in order, or tap any of the words from the list below to see them played.
Besides this cool replay feature, the latest Letterpress update also includes an improved dictionary, a clarification of the "prefix" rule, and tons more tweaks and fixes. Oh, and just in time for the holidays, the word Christmas has been banned from use. Hey, it's a proper noun, it's not allowed no matter how good you've been this year. At any rate, Letterpress remains one of the most well-designed games I've played, along with being a lot of fun. So be sure to check out the latest update and the neat new replay feature.