Whoa, this is nuts. Australian developer Halfbrick Studios is looking to end the year with a bang, and their way of doing this is apparently to slash the price of every single one of their titles on both iPhone and iPad to free for 24 hours. I can dig it. Most notably, I think, is the game that put Halfbrick on the map permanently: Fruit Ninja ($1.99). It's never been free before, and is an essential title for every iOS gamer's library. If you've somehow never gotten around to picking it up for whatever reason, now is your chance.
But let's not forget what else is on offer. Age of Zombies Anniversary ($0.99), the colorful dual-stick shooter starring Barry Steakfries, is also free for the first time ever. And if you have an older device, the standard definition Age of Zombies ($0.99) is free as well. Barry Steakfries' first iOS adventure, the auto-runner Monster Dash (Free), is – you guessed it – free. The Fruit Ninja movie tie-in Fruit Ninja: Puss in Boots ($0.99) is free, and Halfbrick's somewhat obscure inaugural iOS offering Blast Off ($0.99) is free too. Oh, and Jetpack Joyride (Free) is free too, but it always is anyway. I just wouldn't have felt right not including it. Huh, I guess I could have saved myself a bunch of typing by just saying everything is free.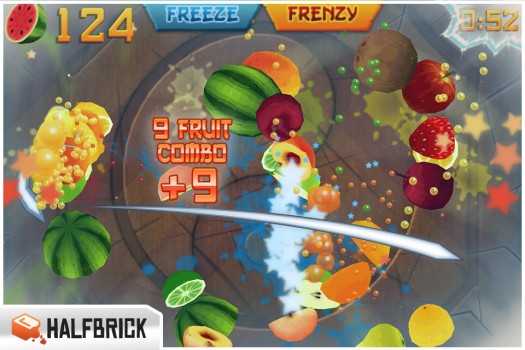 This sale is just insane, it's like an Oprah show up in here with all these freebies. Halfbrick has consistently put out quality iOS games for coming up on 3 years, and it sounds like they've got big plans for 2013. We'll be keeping a close eye on them for sure, but right now I just want everybody to focus on downloading all these free games. I mean, really, get on it. Halfbrick says the sale will last just 24 hours, ending at 6:00am GMT on Tuesday, which for us here in the US should be around 1:00am EST tomorrow morning. Unlike most "one day" iOS sales that last for far longer, I tend to believe them on this whole 24 hour thing.
That's still plenty of time to grab what you want though, so be sure to share this with the iOS gamers in your life and snag all of these fantastic titles for free while you have the chance.