So we've been pretty darn excited for Oceanhorn, the gorgeous upcoming Zelda-inspired action RPG, ever since we first saw it in November of last year. Things went kind of silent after that, until a couple of new screenshots surfaced this past September and a proper gameplay video was unveiled the next month in October. Things were looking fantastic, and it seemed like Oceanhorn might actually be getting kind of close to being finished.
Well, in a good news/bad news sort of situation, developer Cornfox & Bros. posted a huge update in our forums as well as on their blog revealing the status of the Oceanhorn project. First of all, the game won't be coming out in 2012 as originally intended. I'm not totally surprised by that given the scope of a game like this, and I'd rather wait for things to be fully-baked than struggle to hit a target date. It's a bummer, but I can deal.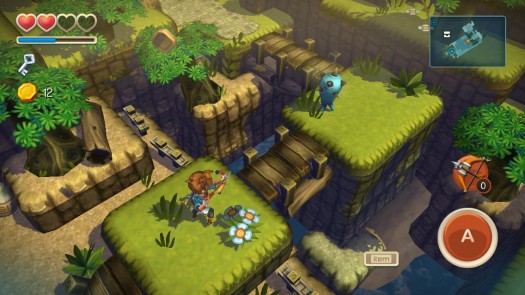 On the brighter side of things, Cornfox & Bros. announced that they have partnered up with FDG Entertainment to take on Oceanhorn tag-team style, and with the extra help they'll be able to fully realize their original vision for the game and make sure it's the best that it can be. The scope of the project has grown by leaps and bounds since first being announced, and with some extra hands on deck Oceanhorn will be a bigger and better experience than what Cornfox would have realistically been able to deliver in a reasonable timeframe. It's an interesting partnership, and I'm curious to watch it go from here.
This is one title that I'm almost more excited for than any other, and I'm anxious for things to really get moving with the new developer collaboration so they can finish this puppy off and get it in my hands. We'll be keeping a close eye on Oceanhorn as development continues for any new details, but for now enjoy the new set of screens in this post and be sure to check out the forum thread for more discussion from both our community and the game's developers.