While we're still diligently working away at our various year-end "Best Of" posts, Apple has jumped the gun on their featuring- Making us wonder if there's not going to be any huge releases next week before the freeze. (Some forum members were suggesting a surprise appearance from Real Racing 3 as a potential holiday surprises.) Oh well. Either way, you can hit up Apple's best picks of the year by mashing this link here.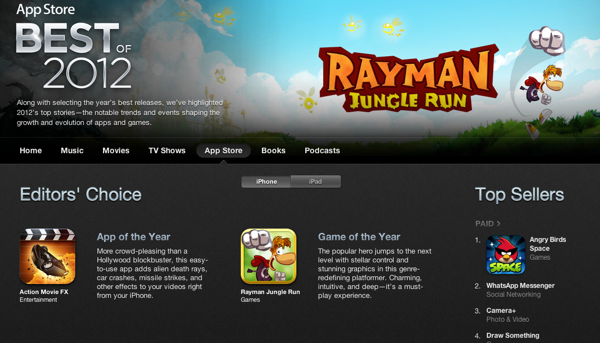 Rayman Jungle Run ($2.99) takes Apple's Game of the Year award while Letterpress (Free) scores the runner-up position. We've reviewed both, and enjoyed Rayman quite a bit, but I personally like Letterpress way more.
Either way, this collection is a great way to get started with your iOS game library or to fill in things you might've missed over the year so be sure to check it out.