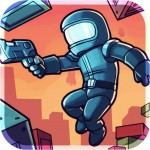 There is precisely one video game in the world where you get to play as a handsome gentleman who can throw exploding cats from his beard, and right now that game is free just for you. The game in question is Halfbot's The Blocks Cometh (Free), and the bearded gentleman I'm referring to is myself. The exploding cats thing is also based on a real life experience, but I just don't want to go into right now. Just kidding. Hey, you can also play as digital versions of Eli and Brad, among a ton of other special characters plucked from the crazy world of video games.
If you need a refresher course on what exactly The Blocks Cometh is, you can read our original review from early last year. However, a massive update arrived later that year that added landscape support, new unlockable characters, and two sweet new game modes which made it an even better experience than the initial release version, which was already pretty darn good.
Then this past August another major update hit which added The TouchArcade Crew as playable characters, in addition to the main characters from Velocispider ($2.99) and 1-bit Ninja ($2.99). Good company to be in, I might add. That update also added Universal and Retina Display support for the iPad, and let me tell you that The Blocks Cometh feels best to me on the larger iPad screen. Also Brad's muscles are all the more glorious on an iPad, and Eli's snark is practically palpable. We dig into that particular update in our TA Plays embedded above.
Don't mess around and give The Blocks Cometh a download while free. It's an incredibly challenging and satisfying endless platformer that was one of my favorite games even before it included the most dynamic and electrifying trio of iOS game editors on Earth.