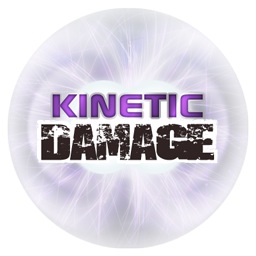 Originally starting in early 2009, indie developer Benjamin Marchand has been toiling away at his Unity-based fighting game project called Kinetic Damage for nearly 4 years, and it's finally getting ready to see the light of day.
I love fighting games, and I've been pleasantly surprised to see how well they can work on touchscreen devices, with most of the heavy-hitter fighting game developers releasing pretty stellar versions of their games on iOS. But you don't see a whole lot of people try to tackle the huge task of creating an original fighter from scratch. These kinds of games rely heavily on nuanced mechanics and precision movement, which can be a tough nut to crack for smaller teams or those who aren't as experienced as the Capcoms and SNKs of the world.
Based on what I've seen so far, though, I think Kinetic Damage has a shot at pulling it off. The fighting mechanics seem fluid and deep, and there's a huge emphasis on character creation and customization that I find really appealing. In the trailer below, you can see just how much depth there is to the character customization, from the actual look of your character to their various attributes and fighting styles. It even looks like you'll be able to piece together your own combos by purchasing individual moves.
If the thought of having so many options to buy in-game stuff is scaring you that this might be some freemium'd out affair, worry not. Kinetic Damage will launch for free with a limited taste of the game, offering just a small selection of fighters and styles and just one level. The only IAP in the game will be to unlock the full thing, and that will run somewhere in the $3-$5 range. All the currency that goes towards unlocking items and customization is earned through playing the game.
Kinetic Damage might not be the most visually impressive game on iOS in terms of character models, but I like its style and am happy with how smoothly it runs. It's just very cool to have something different than what we've come to know and love from all the popular fighting games over the years. The fact that this is largely a one man project makes it all the more impressive. One down side to this is that due to the small budget of the project online multiplayer won't be in the cards for release, and its later addition will depend on if the game does well or not. It will however include local multiplayer modes.
Oh, and if you're an older iOS device owning gamer, here's some good news: Kinetic Damage has been optimized for older hardware and runs at 30fps on an iPhone 3GS, as you can see in this demonstration video.
Submission of Kinetic Damage should be any day now, with a planned release sometime in January. Until then you can check out this thread on the Unity forums where the developer has been tracking the development of the game since the beginning, and it's filled with all sorts of nifty in-progress videos and screens. You can also check out the thread in our own forums for even more videos of the game in action as well as information straight from the developer and additional discussion on Kinetic Damage.