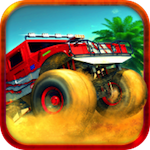 Late this afternoon, Eli and I spent some time with Offroad Legends Sahara (Free). At first or second glance, it appears to be another free-to-play hill climbing-slash-stunt game that's charting pretty well. But if you click the "buy" button, you'll see that it's actually a demo for Offroad Legends ($0.99), a game that hit earlier this June. The timing of this demo couldn't be any better — these car games are blasting up the charts, the demand for them now seems to be far more intense than what it was in the summer.
We thought we'd check it out just to share this little story and show off an otherwise cool-looking and competent hill climber. It'll be interesting to see if the full version of the game gets considerable traction as a result.
Anyway, we've got some footage of the game below. If you're into these games, you might want to put Offroad Legends on your radar.