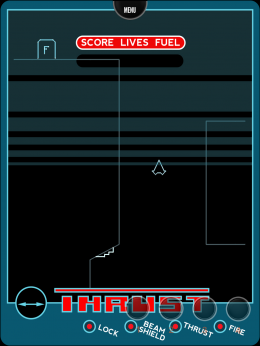 Since August, we've been tracking the upcoming bundle of glowing vector goodness known as Vectrex Regeneration, a universal iOS app that emulates the much vaunted Vectrex game console of the early '80s. The app will come bundled with the system's entire original game library (nearly 30 titles in all) and will offer indie titles released after the Vectrex left market (in 1984) as in-app purchases, along with various feature packs, such as the multiplayer Controller Pack and the iCade pack.
Developer Anton Faulconbridge over at Rantmedia Games has been keeping retro fans closely following this one up-to-date via the Vectrex Regeneration twitter feed, where he's currently counting down to release — just three days left now — and offering peeks at the system in action.
This morning, Anton sent word that he has put up a new trailer video, and it's one that really shows off the smooth, 3D "game room" interface that ties the whole system together as well as the highly authentic-looking visual treatment given to the on-screen vectors in motion.
We're quite anxious to put the app through its paces and will be bringing a full review once Vectrex Regeneration lands in the App Store.