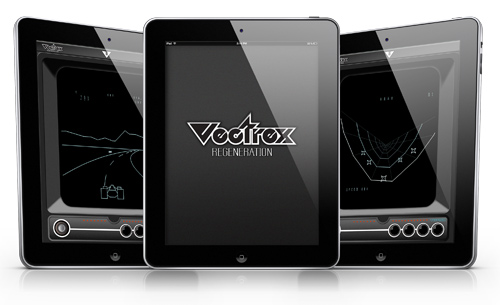 As TouchArcade's resident retro gamer, I'm quite pleased to see so many great retro remakes and retro-inspired original titles in the App Store. Yes, despite my Retina displays, most of the time there are jaggy pixels on my screen. And, like many other gamers who fancy a trip back to the 8-bit era, I keep a few consoles from decades past all hooked up and at the ready for when the mood strikes me. But, none of them is so lovely to fire up and give a go than the Vectrex.
Released in 1982 by General Consumer Electric (GCE), the Vectrex is a highly unique game system. Unlike every other console of the time, the Vectrex features an integrated CRT display — but not of the standard, horizontal-scan variety. The Vectrex utilizes a vector monitor,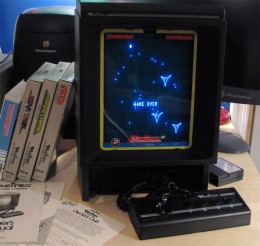 which is similar to an oscilloscope and draws its graphics on the screen in a fashion similar to the display process of a laser light show. It's the only console from gaming's past defined by a complete lack of jaggies.
The Vectrex features a wired controller with an analog stick (one of the first ever brought to market) and accepts games on ROM cartridges, though a single, Asteroids-like game called MineStorm is built into the system. Each game title came with a pack-in plastic screen overlay to add cabinet bling and simulate color on the built-in monochrome display. There was even a light pen and an optional 3D imaging peripheral available for the system, the first ever offered for a console.
Though less than 30 games were released during its market run, there was some serious fun to be had with that quirky little unit, way back when. Even still, the Vectrex was not a commercial success and it left the market in 1984, following the notorious video game crash the previous year. Since that time, more new independent titles have been released for the console than make up its original catalog.
Because the Vectrex is so unique among vintage game consoles, it is highly sought-after by collectors and can be quite pricey to own. As such, I'm quite pleased to report that iOS gamers will soon have the opportunity to enjoy the Vectrex library on their favorite device.
Rantmedia Games will soon be releasing Vectrex Regeneration, a universal Vectrex emulator that comes bundled with the entire original game library — nearly 30 titles. Beyond this, a number of feature packs will be available as in-app-purchases to enable extended functionality. The Controller Pack will allow multiplayer games with any combination of iPads and iPhones, as well as allowing AirPlay display extending, using the device as a controller. Then there's the iCade pack — I'll let you guess what that does. There's also an Autofire pack — hey, the original Vectrex didn't have autofire! And, every game in the library will feature Game Center support, and that library is set to grow beyond just the titles that folks in 1984 enjoyed — many indie games created in more recent years will be made available via Game Packs. (I hope Vectrex Thrust is in there, it's the best cave flier I've ever played). And, users will have the option of playing with or without virtual screen overlays.
Vectrex Regeneration is a pretty sweet proposition. Nothing can render angular vectors as clearly as a vector monitor, but Retina-enabled iPhones and iPads should come pretty darned close. And in an iCade, the app should almost replicate the physical presence of that wonderful hardware from 30 long years ago. Stay tuned for a full review of Vectrex Regeneration when it lands in the App Store. In the mean time, keep an eye on the developers' Twitter feed for status updates.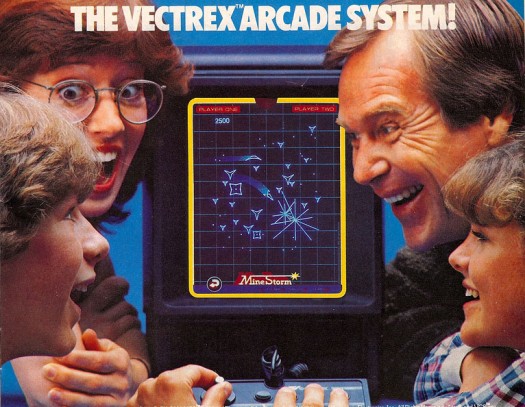 It's fun for the whole family!