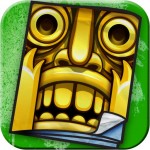 We are living in a time when mobile games have the power to infiltrate pop-culture on such a massive scale that they inevitably bleed over into other areas. Just go to basically any kind of retail store and try to spot the Angry Birds merchandise – it shouldn't be too difficult to find. Fruit Ninja, Pocket God, Doodle Jump and Temple Run have all seen similar kinds of success, though not quite to the scale of Angry Birds, but they've still found ways to leap off of the touchscreen and into the mainstream.
Speaking of Temple Run in particular, we recently noted that they've opened up shop and are selling some pretty sweet merchandise featuring their iconic, uh, icon art as well as the game's protagonist Guy Dangerous. Last week, as we had first heard back in July, Temple Run took another step in that direction by stepping into the world of comics, a close cousin to video games and a huge part of geek culture. The Temple Run Comics ($0.99) app, which is the #1 Paid iPhone Book App at the time of this posting, will cost you a buck to download but comes with the first two issues of the comic for free.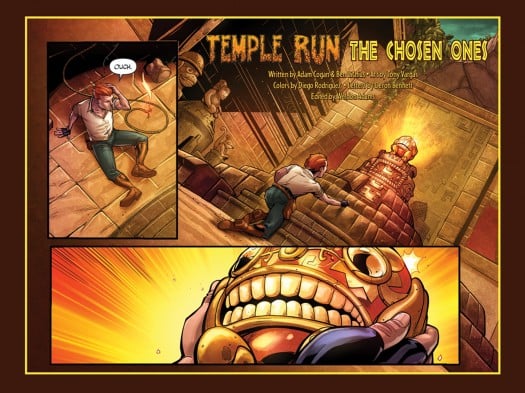 Additional issues will be made available from within the app each month, and will similarly cost a buck for each. As you build your collection, they'll be housed safely right inside the app, which has an extremely slick interface, is Universal, and supports Retina Display devices. If you're looking for a more traditional route to comics, you can even search out the closes physical store to you from in the app.
I don't read a ton of comics, but I'll occasionally delve into some digital offerings on the App Store and I've got to say I'm really digging the interface and setup of Temple Run Comics a lot. The stories themselves are good so far too, not surprising as they're created by Ape Entertainment who was also responsible for Pocket God Comics ($0.99). One thing that did strike me as odd though is that the layout for the comics in Temple Run Comics are landscape-oriented, which isn't necessarily a bad thing but feels strange since comics and books in general are typically in portrait. Just an observation, really, I'm already warming up to the layout.
If you like comics and/or Temple Run, then the Temple Run Comics app is a lovely digital way to feed them to your eyeballs. Definitely check it out, and keep your eye out for future issues to be added into the app in the months to come.