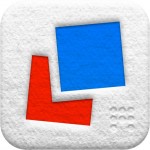 Here's something worth highlighting: Loren Brichter of Atebits has collaborated with the awesome online t-shirt shop United Pixelworkers to offer a limited run of Letterpress (Free) inspired shirts, and the best part is that Loren will be donating his portion of the profits directly to charity.
In the face of the hardships our country has been facing in recent days, namely the Hurricane Sandy victims on the East Coast, this is a fantastic way to show your love for Atebits' fantastic new word game while feeling extra good for doing so. For every shirt sold about $5 will be donated to help out those affected.
Hey, I'll tell you one thing: I was totally on board for buying a Letterpress shirt anyway when I first saw them. We thought it was a simply fantastic word game in our review, and the t-shirt design showing a 5×5 grid of game boards is a really nice looking design. Knowing that part of my purchase will go towards a good cause is just icing on the cake.
Show your love for Letterpress and more importantly for those in need by visiting the United Pixelworkers website before Monday in order to get your hands on one of these stylish tees, and if you haven't jumped on the Letterpress bandwagon just yet then get moving as it's free to download and play and will likely become your latest iOS obsession, as it has to the rest of the internet.