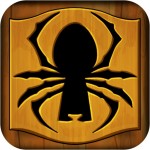 Back before they had us exploring the inner depths of the Red Planet in Waking Mars (Free), Tiger Style Games had us exploring a creepy mansion as a tiny arachnid in Spider: The Secret of Bryce Manor (Free). Let me go ahead and spoil the biggest secret for you right now: Spider is phenomenal. Ok, that's not actually a secret at all. Spider has received critical acclaim from practically every corner of the Earth, including getting our own Game of the Year 2009 nod as well as a similar nod from Apple themselves that year.
The reason Spider shone so brightly was that it was one of the best games during the early App Store days to take the touch screen available on iOS devices and really own it. As you sent your spider soaring through the nooks and crannies of Bryce Manor using swiping gestures, there's a point where you realize that the game just couldn't be the same if it was on a traditional gaming console. It fit iOS perfectly, and had an engaging story and fantastic art design to boot.
So all this gushing, as I'm sure you've already guessed, is because currently Spider: The Secret of Bryce Manor is free for both iPhone and iPad. It's seen its fair share of sales over the years, but this is the first time ever Spider has been completely free, and the bottom line is if you don't already own it you need to download it immediately. Or even quicker than immediately, if possible. Seriously. Or we just can't be friends anymore.
If you for some reason are not heeding my advice, just read our original review from back in 2009 for some more insight. Just be aware that since its initial release, Spider has been updated with modern trappings like Game Center, Retina Display support, and 4-inch widescreen display support, so it's an even greater game than the great game it was when it first released. Why are you still reading this? Start downloading!