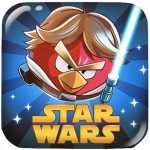 Rovio and company have been teasing Angry Birds Star Wars to no end since announcing the unlikely and somewhat strange crossover earlier this month.
However, it's all becoming clear to me now, after watching the first glimpse of actual gameplay in Angry Birds Star Wars, released by Rovio earlier today.
Using a lightsaber to slice through blocks? Using force pull to yank a giant AT-AT piggie's legs out from under them? Yeah, this looks rad. As we've learned previously, Angry Birds Star Wars is all set to launch on November 8th which is just next week, and we really can't wait to get our hands on it then.