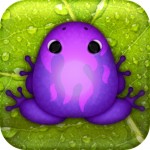 If you thought Nimblebit was just all about landlordin' in Tiny Tower (Free) or flight crewin' in Pocket Planes (Free), their two most recently released success stories, then think again. A little more than two years after its release, Nimblebit is returning to their amphibious roots with a massive new update for Pocket Frogs (Free) which will be hitting later this week.
Just in case you missed out on the Pocket Frogs phenomenon up to this point, it was a freemium game released back in 2010 that lets you collect, breed, and trade an assortment of different froggies which live in a habitat on your iOS device. With a whopping 15,000+ different combinations of frogs to breed, coming across ultra-rare frogs or striving to "collect 'em all" made Pocket Frogs an insanely popular – and profitable – title, with legions of fans discussing and trading their various frog collections in our forums for months and even years after release. We also fell hard and fast for Pocket Frogs in our own review.
It's been about a year since Pocket Frogs has seen any kind of update love, but Nimblebit has broken down the details of what's coming later this week. On the top of that list is the addition of 40 new breeds of frogs for a total of 100 in the game, and altogether that raises the number of different breed combinations possible to over 35,000. Also, Pocket Frogs will now support the 4-inch screen of the iPhone 5 and new iPod touch, so you'll have a bit more room to get your breed on.
One final tidbit of information, and if you're a Pocket Frogs fanatic then this is important. Nimblebit will be removing the Plus+ network from Pocket Frogs for the much more popular and Apple standardized Game Center, a welcome move in my opinion as Plus+ hasn't felt relevant for quite some time. However, the Plus+ network was used to store game save data on their servers, so if you don't currently have Pocket Frogs installed on your device you're going to want to download it again right now, let it load up that save game data from Plus+, and leave the game installed until the new update hits later this week. If you download the game after the update that removes Plus+ is already out then you will lose that save progress.
Aside from that little social network changing snafu, this update sounds like it will be just the sort of thing to get rabid Pocket Frogs fans back into the game. Be sure to hit up the regular game discussion thread in our forums as well as the massive Pocket Frogs Trading Thread, and of course follow the instructions above to make sure you're able to keep your Pocket Frogs save data when the update hits this Thursday.