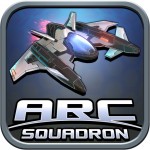 It was back in July when we first caught wind of Arc Squadron, an upcoming space shooter from developer Psyonix. The mechanics and overall style of the trailer looked heavily inspired by the classic Starfox games, which was definitely a good thing, and it boasted impressive visuals thanks to its use of the Unreal Engine.
Last week a new teaser trailer was released for Arc Squadron with word that the game should be hitting pretty soon. It turns out that "pretty soon" actually means November 1st, which is next week. To celebrate, Psyonix has dropped another new gameplay trailer which shows a quick example of how the game is controlled using swiping and tapping gestures.
I'm super into the look of Arc Squadron, as it treads familiar space shooter territory but instead of the ultra-industrial and gritty tones that usually permeate games like this, it's much more colorful and seems like it has a more playful edge to soften things up a bit. We'll surely have more on Arc Squadron before its release, but if you're feeling it's vibe like I am then check out the forum thread for more and try to hang tight until next week.