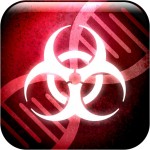 Ndemic Creations' Plague Inc ($0.99) is one of my favorite strategy/simulation titles on iOS. It lets you deploy a plague in the region of your choosing, then grow and morph it in different ways in order to try and infect the entire planet and put an end to humanity. Pretty messed up, right? It's also highly strategic and satisfying, and today a new update to Plague Inc builds upon the already high level of customization the game affords you.
In Plague Inc version 1.4, you now have access to Genetic Modification. Every time you win a game you'll unlock a new type of gene, which you can then insert into your disease of choice and alter its abilities in various ways. It basically takes a game that already had nearly unlimited possibilities and piles even more choices on top of it. It really blows me away just how many different outcomes and scenarios are possible.
Other tidbits in this latest update include full iOS 6 support, performance improvements on all devices, and improvements to gameplay balance and AI. Oh, and if you speak German then Plague Inc has got your back with German language support, and more languages will be coming soon. Also coming in the next update is support for the 4-inch screen of the iPhone 5, which I really can't wait for. Be sure to check out our original review of Plague Inc and drop in the forums for some discussion before you embark on wiping out humanity forever.