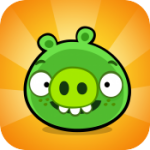 Hey have you heard of this game called Bad Piggies? It's sort of popular or something. I think it was done by the same people who made Angered Burt, but I'm not sure.
Anyway, if you happened to have heard of Bad Piggies (Free) then you may be interested to know that a new update was just released for the game, and adds 15 brand new levels for you to play through. The new level pack is called Flight in the Night, and has a slick new moonlit theme. Of course, there's also teasers for two more 15 level sets coming to Flight in the Night, so expect that at some point as well.
In addition to the new levels, there's a new Sandbox level available for purchase called the Field of Dreams. Basically, it's the biggest Sandbox level yet and it lets you go nuts creating whatever kind of contraption you want with over 300 different parts. It'll set you back $2.99 if you want to get in on the Field of Dreams Sandbox, but it sounds like it has endless possibilities.
Also, as you've probably noticed by the screenshot above, Bad Piggies now supports the widescreen on the iPhone 5 and new iPod touch, which is always a welcome improvement in my book. Expect Rovio to keep on churning out the updates for Bad Piggies as long as it continues to ride the top of the charts, just as they've done with that certain bird game. We won't complain, as we simply loved Bad Piggies in our review and look forward to even more expansions like today's in the future.