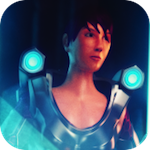 Back in May we got the first glimpse of Breach Entertainment's first iOS title Shardlands, a platforming/puzzle/adventure hybrid that had really impressive visuals, a moody soundtrack and a tremendous atmosphere. As of right now, ahead of the typical set of weekly releases, Shardlands ($0.99) is available in the App Store.
As you'll see from this newest game trailer, Shardlands is quite a looker. There are 20 levels to work your way through along with Game Center integration, as well as support for Retina Displays and the 4-inch screens. People seem to be loving Shardlands so far in our forums, and I'm rather excited to take it for a spin myself.
We'll have more on Shardlands soon, or if you think you've got a hankering for some puzzle-y adventures you can take the $2 gamble and grab it from the link below.