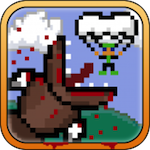 If the idea of chewing through dirt, munching on people, and generally thrashing about as a giant worm appeals to you on some level, you might want to give Super Mega Worm ($1.99) a shot at some point today. Deceased Pixel's giant worm destruction simulator is now zero dollars for a "limited time," making it an insta-grab in our minds.
It's of note that the latest version of Super Mega Worm supports iPhone 5's larger screen and includes numerous tweaks.
There's a reason it's free, by the way. Deceased Pixel is celebrating its latest release Recess Riot. Recess saw a release in September so this sale is coming a little late, but hey, we're not complaining: Super Mega Worm is straight-up radical.