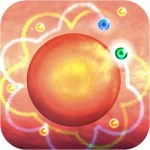 Mango Down's Catch-22 ($0.99) is a mesmerizing, one-button arcade game that has you constantly facing your toughest opponent: yourself. The goal is to increase your score by gathering the orange orbs and avoiding the oncoming ball. Each round you survive increases the multiplier and the amount of orbs to collect. Once you gather all the visible orbs, you "switch" players, and the jumps you make become the path of your enemy-self. This alternating dance plays out until the two balls crash.
That is, unless you crash when you are crystalized and switching player possession. This special crash makes both balls rightly go in opposite directions, but it more importantly resets the path of the enemy-self. This provides a much needed respite from the last round where you jumped all over the hypnotic, orange playground.
Equally entrancing is the music that loops during the game. The notes pluck subtly, with soft, airy effects for the jumps and slight chimes for gathering the orbs. Thankfully the orange playground itself doesn't move, but the cloudy, dreamy background slowly drifts during gameplay.
The broken Game Center achievements, however, somewhat shatter that dreamy experience. It brings me back to the reality that there isn't too much to Catch-22. It's engaging, but it feels like there could be something more.
A two-player mode comes to mind, which could be as simple as survival of the fittest colored ball. Players take turns gathering the gold balls while making the shadow path as difficult as possible for the upcoming player. But that's just one suggestion; I'd like to see Catch-22's mechanics explored a little further than what's free on Facebook and has become an iOS game.
However, the developers' current creativity deserves reward and praise, and Catch-22 is only a $1. Mango Down's Guus Hoeve told me that leaderboards have been fixed in the new 1.01 update (which tested fine for me on my iPad 2), achievements will be fixed in the following update, and a co-op mode is underway.
The Catch-22 here is a game that is paradoxically fun, despite a few flaws and a lack of modes that would otherwise cripple less creative games. If the developer commits to its future growth and repair (functional achievements and a co-op mode), Catch-22 will become a score-chasing game that players and their friends will have even more reasons for which to return.