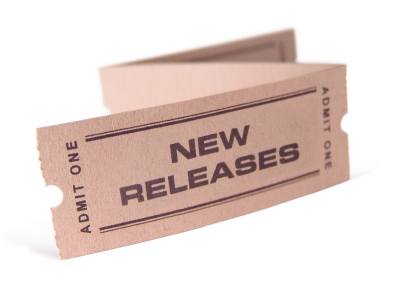 It's that time of week again when the slew of new releases rockets into the App Store with the force of a thousand wallet-emptying suns. Ok, maybe it's not that dramatic, but I do look forward to being able to try a ton of new games each and every week. Ah, iOS gaming how I love thee. Anyway, Eli is currently out soaking up the culture in Korea, so that leaves me, your humble Bearded One, to fill in with the new releases.
In case you're new around here, new releases are generally scheduled for release every Thursday, and due to the different time zones across our lovely planet they become available in a staggered fashion as the clock strikes midnight from the far East moving westward. That means that many countries can grab these games already, but if you're based here in the US like we are then you can expect them all to go live in our App Store at 11pm EST later tonight.
---
2012 The End Escape, $1.99 – [Forum] – This looks to be an endless driving game like Lane Splitter (Free), but with an apocalyptic theme. Dodge all sorts of end-of-the-world hazards as you use 9 different cars to race for your escape. I'm really digging the art style in this one, and instead of being a scheduled release it's actually available right now if you want to take it for a spin.
---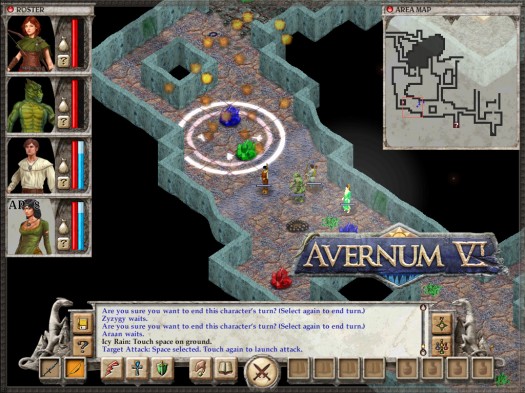 Avernum 6 HD, $6.99 (iPad Only) – [Forum] – The newest entry in Spiderweb Software's line of iPad dungeon-crawling RPGs. The previous releases have been excellent, and I'd expect the same from this as well. This is also not a scheduled release, so if you're interested you can grab it in the App Store right now.
---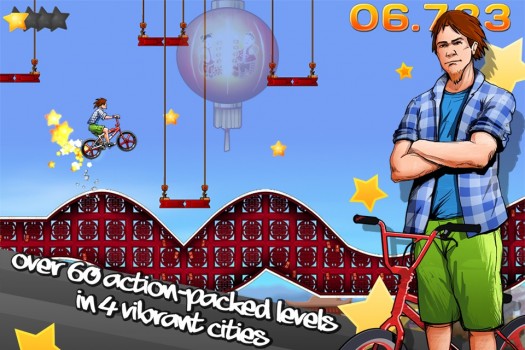 BMX Jam, 99¢ – [Forum] – This is one of those 2D side-scrolling physics games, like so many others in the App Store, but it looks like it's got a lot going for it with a big bag of tricks to perform and 60 levels spread across real-world locations like Sydney, San Francisco, Beijing and Rio de Janeiro.
---
Crazy Taxi, $4.99 – [Forum] – Chances are that you've played Crazy Taxi back in the early 2000s in arcades or on home consoles, and this iOS version is a faithful port of the game you so fondly remember. If you weren't around for Crazy Taxi originally, it offers a frantic arcade experience that's still a ton of fun today. Brad and I had a blast with it in our recent TA Plays video, so be sure to check that out as well.
---
Devil's Attorney, $2.99 – [Forum] – There seems to be a severe lack of courtroom-based video games, with the Phoenix Wright series pretty much cornering the market. Tonight that changes. We were floored by the sheer awesomeness of the promo videos for Devil's Attorney a couple of weeks ago, and I'm expecting the game itself to be quite entertaining.
---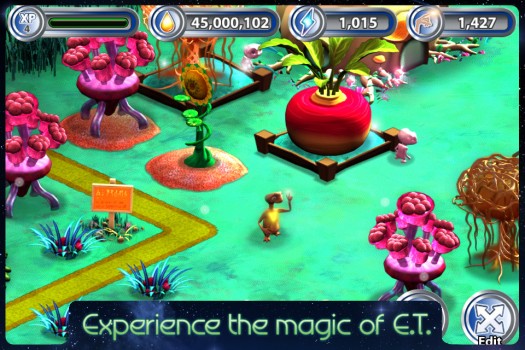 E.T. The Green Planet, Free – [Forum] – This is a farming simulation starring E.T., everyones favorite alien from the '80s (sorry, Alf). But it's not actually as strange as that statement sounds: at the end of the movie, E.T. jets off to his home planet with potted plant in hand, ready to cultivate vegetation on its surface and bring it back to life. This game continues that post-movie storyline, and it's also one that's available right now in the App Store.
---
Funky Smugglers, 99¢ – [Forum] – This is a much less complex and "hardcore" offering than 11 Bit Studio's previous effort Anomaly Warzone Earth ($1.99), but it's definitely not lacking in production values and sheer style. Your job is to swipe and collect all the devious items that passengers are attempting to smuggle onto their plane as they pass through a metal detector. We enjoyed our time with Funky Smugglers in our TA Plays video from earlier today, so check that out too.
---
Girls Like Robots, 99¢ – [Forum] – Adult Swim basically never disappoints with their iOS releases, and Girls Like Robots looks like another winner. At its core it's a puzzle game about making the correct seating arrangements for a cast of blocky little characters. It looks clever, and like most Adult Swim games it's oozing a ton of personality and style.
---
Lotsa Blocks, 99¢ – [Forum] – This is a new physics-based block-stacking puzzle game, like so many others out there. The big thing that seems to set this one apart from the pack is the inclusion of Game Center multiplayer modes, so it will be interesting to see how that turns out. And who can say no to adorable, brightly colored, googly-eyed blocks, am I right?
---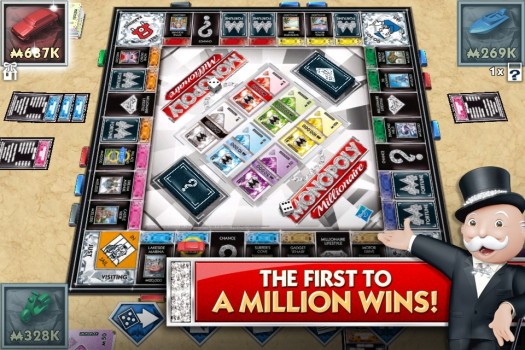 Monopoly Millionaire, $2.99 – [Forum] – The classic board game lesson in capitalism graces the App Store once again in a new twist on the formula. Here, it's the first player to hit a million dollars who wins, which is a good idea since normal games of Monopoly can take a lifetime to complete. Monopoly Millionaire also has a real swanky style, which I'm digging a lot.
---
Polara, 99¢ – [Forum] – We were pretty intrigued when we saw the trailer for Polara late last month, and I'm eager to finally get my hands on it. The game is an auto-running platformer, something I'm sure everybody is quite familiar with by now, but the twist here is that you must constantly be switching your "polarity" from red to blue and vice versa in order to pass through objects of the same color. Think Canabalt meets Ikaruga, if you will.
---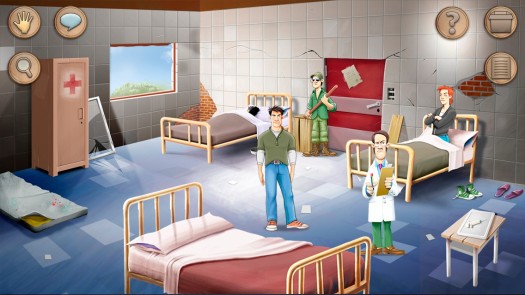 Reversion – The Escape, $2.99 – [Forum] – A new point-and-click adventure game from Bulkypix. You'll play as a man who wakes up in a strange hospital in the year 2035, and for some reason you can't remember the last 20 years of your life. It's your job to figure out who you are, what happened to the world you once knew, and do other general adventure-y type stuff. I've got to admit I'm liking the cartoonish graphics in this one.
---
Space Disorder, Free – [Forum] – Another new one from Bulkypix this week, this time a platforming game that utilizes a gravity switching mechanic and other abilities to guide your spaceman in his quest to rescue 30 alien friends. Also, like any good platformer, your ultimate goal is to rescue your girlfriend, who of course has been kidnapped. When will a boyfriend finally get kidnapped in one of these games, I wonder.
---
Topia World Builder, 99¢ – [Forum] – This world-creating sandbox-style game from Crescent Moon games and Populous co-creator Glenn Corpes has had our attention ever since it was announced last year. You'll manipulate the terrain of an entire planet using your fingers and the touch screen, and it feels like a match made in heaven. There's not a ton of "game" elements just yet, but Topia is an interesting and fun experience all the same, as evidenced by our recent hands-on time with the title.
---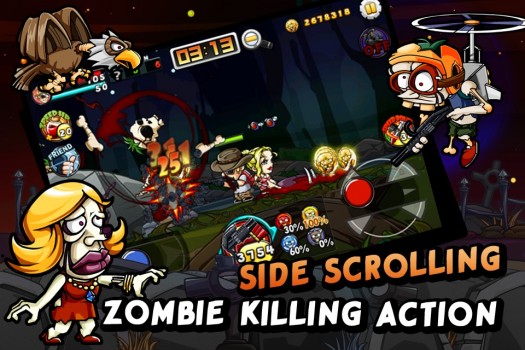 Zombie Gunner, Free – [Forum] – As best as I can tell when trying to squint past all the marketing fluff plastered all over the App Store screenshots, this appears to be a side-scrolling brawler type of game where you – get this – shoot zombies with weapons! Ok, so we've seen this sort of thing before, but who knows? This one might be drastically different from the plethora of others, we'll just have to wait and see. If anything, it's free to try so at least worth a shot in my book.
---
Kumo Lumo, Free – [Forum] – It wouldn't be a release week without a new title from Chillingo. In Kumo Lumo, you play as a cloud who goes around raining on everything. I'm not sure what else you're supposed to do, but based on the trailer you do lots of that. It's what clouds do, ya know? The one thing I do know is I'm totally loving the nifty art style of this game.