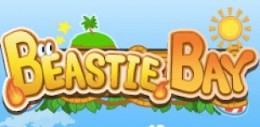 Kairosoft has a lot of simulation games, with one to cover practically any theme you can think of, but over on Android they've got something kind of different brewing. It's called Beastie Bay, and it interjects your typical Kairosoft building and management sim with a healthy dose of monster battling and collecting, a la Pokemon. After washing up on a deserted island (perhaps after a World Cruise Story mishap?) you'll need to battle it out against the island's not-so-friendly inhabitants, and at the same time build up a town on the island for other castaways to live in.
It sounds like a pretty interesting mix of gameplay, especially coming from the masters at Kairosoft. Another interesting tidbit is that Beastie Bay is actually free to download and play, supported with in-game advertisements. You can pay $3.99 to remove the ads, and there's some other IAP type of stuff in the town you build that you'll be able to throw your real life money at if you wish, though it doesn't look to be required.
All that's left now is for Beastie Bay to hop over from Android and onto iOS, which is something that hasn't been announced but given Kairosoft's history it's entirely within the realm of possibility. The gamers in our forums are eager to see it too, and we'll let you know if we catch wind of an iOS release of Beastie Bay heading our way.