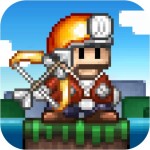 When Apple released the iPhone 5, they also released a new version of their software development kit so people could begin building their games and apps for the new hardware. However, with this newest SDK Apple has dropped support for their older hardware. Although I hear there are some workarounds, for the most part if you wanted to support the iPhone 5 you'd have to sacrifice support for anything below an iPhone 3GS.
Not the end of the world, as the oldest devices are between 4 and 5 years old now, and the iOS hardware nowadays blows that old stuff out of the water performance-wise, but that still cuts out a significant portion of users. That puts Pixbits, developers of the awesome Minecraft/Terreria inspired 2D world builder Junk Jack ($0.99), in a bit of a predicament.
You see their vision for Junk Jack had always been constrained by the desire to support the older hardware, and because of that many planned features hit the cutting room floor in favor of wider compatibility. But now that the iPhone 5 is out they'd like to support it with Junk Jack, a game that would be fantastic with a wider display, but that means they'd have to drop support for anything less than 3rd generation hardware.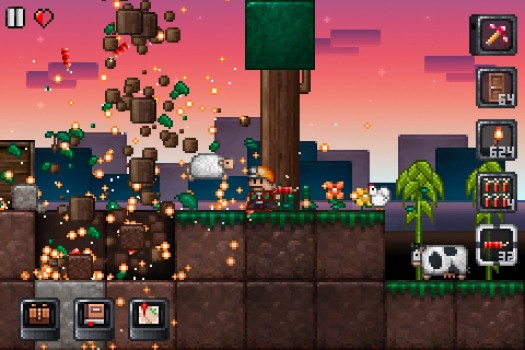 So, they took to their forums and asked their community what they thought about the situation. Ultimately what Pixbits would LIKE to do is take the Junk Jack we know and love as it is today and roll it into a separate project, which would support the new iPhone 5 and nix the older devices, but would be able to evolve and include features that the team had been wanting to implement all along but couldn't because of the less powerful hardware.
Some of these big features include multiplayer, a full-fledged equip system, and multiple worlds with different environments. It sounds like current Junk Jack owners with older hardware would be able to keep the game as it is now and continue enjoying it, though content updates would likely stop in favor of building stuff for the new edition. Then newer hardware owners would have this special edition Junk Jack, which will likely be a separate purchase, that can continue to grow and take advantage of newer features.
Well their forum response has been a resounding "yes" for building this new version of Junk Jack, even if it means dropping support for older hardware and having to purchase the game again. I'd have to agree. Junk Jack on an iPhone 5 with extra bells and whistles would be fantastic, and I've gotten so much enjoyment out of the first game for the price that I don't mind at all forking over for a new version.
Nothing has been confirmed just yet though, but we'll keep our fingers crossed that this Junk Jack redux becomes a reality and we'll bring you any news as we get it. Also, feel free to voice your own opinion on the matter in the Junk Jack forums or in our own forums and let Pixbits know what you'd like to see.