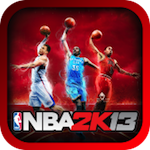 Earlier this afternoon, Eli and I spent some time dribbling down the pitch and shooting touchdowns in NBA 2K13 ($2.99), the follow-up to last year's NBA 2K12. As you'd expect, it's a lot like last year's version of the game, except with updated rosters and some iterative touches that sports-stupid dudes like us aren't really going to notice but are probably still really cool.
If you'd like to see NBA 2K13 with your own eyes, check out what we've got. We played a full game of 14-on-14, complete with fouls, hoops, and basketballs — the thought being that you'll get a good feel for the game, if you're on the fence about it.
NBA 2K13 is out now, by the way, as a Universal build, across iPhone and iPad.