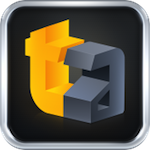 Over the weekend, our app got taller! The official TouchArcade app [Free] now supports iPhone 5 resolution courtesy its latest update. After you grab the aforementioned update from the App Store, you can browse our selection of curated content without letterboxes, which is a pretty cool deal if you've got Apple's newest handset.
We've also addressed a login bug for those of you with spaces in your screen names and we've fixed an article date issue. Say goodbye to incorrect dates.
If you don't have our app yet, definitely consider giving it a whirl. It'll connect you with our latest editorial, as well as point you in the direction of the latest and hottest in video games. We've got a few images above that show off the app's new look, if you want to see it before you download. It's so pretty!