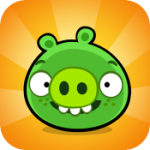 As expected, Rovio's Bad Piggies (Free) popped up on the App Store in the middle of the night last night and early impressions on our forums seem remarkably positive aside from the somewhat expected complaints regarding separate iPad and iPhone versions of the game. Bad Piggies takes place in the Angry Birds universe, but you play as the pigs assembling various contraptions in a sandbox-feeling physics puzzler trying to reassemble your grand plans to steal the birds' eggs once and for all. (They blew away in the wind.)
If you want to see the game in action, check out the TA Plays video we put up yesterday.
I've been having a load of fun with Bad Piggies so far, and am getting close to completing the currently available content for a review which should be up on the site later today. Of course, like all Rovio games, there's a nebulous "coming soon" section indicating that Bad Piggies likely will also be the target of constant updates and bonus levels.