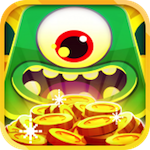 Super Monsters Ate My Condo (Free) is out and available now. It's an iterative follow-up to the original game that drills down to the series' core, improves it, and gives the user more of its intense brand of Match Three Meets Jenga action. We'll have a lot more evaluative things to say about it in a future review, but for now we'd like to point something out: this is one of the first games that actually looks and feels different on iPhone 5.
The iPhone 5 version of Super MAMC features a zoomed-in tower. As opposed to stretching the game out, creator PikPok and Adult Swim chose to bring the game closer to the player. It took us awhile to come around to it, but in the end, it makes swiping a little bit easier, which should lead to higher scores and crazier multipliers.
Just take a look at the difference:
We quizzed Adult Swim's Chris Johnston about the zoomed-in tower and what it brings to the game. Spoiler: he's jacked about it.
"From a player's perspective it's great," Chris tells us. "Since we're a vertically oriented puzzle game it means there's more screen real estate on each condo to swipe, and less chance your finger will mis-swipe the wrong condo."
He adds that it's nice to not have to worry about this, as the game really cranks up the pressure with its two-minute time limits. He also adds that PikPok considered raising the height of the tower on iPhone 5 before settling with the zoom in.
"A couple different ideas were put forth like raising the height of the tower, but ultimately zooming in was the best player experience and didn't unbalance the game in other ways," Chris says.
"I think this was the best choice. The monsters are also a little taller on screen and closer to the tower so everything just feels bigger."
Neat, right? By the way, all Adult Swim games in development now will take advantage of the iPhone 5 and its taller screen. Naturally.
"To me the exciting thing is getting little interface things like pause buttons or virtual controls out of the way," Chris tells us. "176 pixels doesn't seem like a lot especially if you just think about it just as the edges — but when you're able to move some of those UI elements to the corners it gives you more screen space in the center for the game. All the titles we have in development now all support the larger display in that way and it makes a huge difference."
Adult Swim and its partners know what they're doing with this screen, so feel free to get stoked for what's next. Oh, and play Super MAMC. It's a really good game.