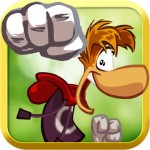 Earlier this month we told you that Ubisoft was planning on bringing Rayman to iOS in a new adventure on September 20th, but it looks like somebody got antsy and pulled the lever that released Rayman Jungle Run ($2.99) earlier today. It uses the same engine as the critically acclaimed Rayman Origins which launched earlier this year, so it's got some gorgeous visuals tucked under its belt but the gameplay is quite a bit different from that more traditional platform experience.
Rayman Jungle Run is a level-based auto-runner that has you guiding the titular character through various types of terrain, collecting the a string of glowing bugs called Lums which are spread throughout. Strangely, the game is actually broken up into 4 parts from the start, with each section focusing on just one of Rayman's various abilities. The first world starts with just needing to make Rayman jump when needed to get to the end of a level, but later worlds are unlocked which has him floating with his head propeller, wall running, or punching enemies.
The splitting up of abilities is likely to keep the gameplay simple and focused on just one-button control, which is probably a smart design choice for the pick-up-and-play type of mobile experience Ubisoft is shooting for with Rayman Jungle Run. I've only made my way through the first world so far, but I'm really having fun with it and am already hooked on trying to complete every level 100% and unlock the next world.
I'm not going to lie and say I wouldn't love a full port of Rayman Origins on iOS, because I desperately would, but Rayman Jungle Run so far looks to offer a great mobile experience in its own right, with the kind of high production values you would expect from a full console release. We'll have more on Rayman Jungle Run soon, but in my short time with the game I think it's already going to be a pretty big hit with gamers. If you are a Rayman fan that likes to live on the edge you can just grab the game from the link below, or check in with the forum crowd to get some more early impressions.