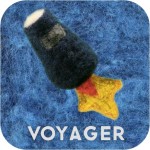 Here's one you may have missed. When I first ran across Oh My! Me Studios' Voyager (Free) I thought "Michael Gondry made a game?" No, but Oh My! Me's Ken Amarit hits exactly the same notes of precise craft combined with literally handcrafted art, and cheerful childhood imagery combined with a serious undercurrent. Maybe they are the same person after all.
Voyager is Oh My! Me's first release, and is a fairly simple object-avoidance game in the form of a trip into outer space… and beyond, into increasingly strange realms. It's also completely stop-motion animated out of needle-felted wool constructs, so it looks a lot like the feltboard stories you may remember from Sunday school or tiny tales sessions at the public library.
The overall effect is incredibly charming. There are gauzy clouds, little floppy-winged airplanes making their way across the screen, cuddly-looking meteors that burst into smaller meteors with little string "speed lines", and eventually things like Muppet-y squid and adorable red blood cells. This game is the third cutest thing in my life right now, after my toddler and my Aunt Charlie's Etsy store.
But the game avoids becoming cloying by being really strange. All that sweetness is tempered with a crazy old "phonograph" soundtrack, complete with record changes, and bittersweet remarks when you die, like "There will be no more sleepless nights, Voyager. "
Voyager looks like it might be randomly generated, but it isn't. It also doesn't speed up  as you progress, instead becoming more difficult through an increasing number of obstacles with new behaviors. The intentionality of the game's design becomes apparent as the screen starts to fill up with comets and plantoids: despite all of the activity, it is possible to collect every single twinkling star in a single playthrough, even the ones that seem mutually impossible to catch.
The controls are perfect: a precise accelerometer control that leaves the screen free for touch-and-hold to slow down time (but not your own movement). The look, sound and mechanics combine to create a calming, zen-like experience, which mitigates the game's only real weakness: having to play through the game's easy start every time.
As the real Voyager leaves our solar system forever, the strange joutrneys of Voyager's spacecraft (which looks a lot more like a tiny felt Gemini capsule) feels like a fitting homage. Godspeed and have fun.