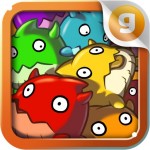 Earlier this week we told you that Supermagical (Free), the long-awaited bubble shooter/RPG hybrid from Pro Zombie Soccer ($0.99) developer Super Awesome Hyper Dimensional Mega Team had finally landed in the App Store. It had sort of a strange launch, popping up in the Spain App Store back in June and then supposedly set to see a worldwide launch alongside some interesting new multiplayer modes that were in the works.
Well, apparently the co-op and head-to-head multiplayer modes need a bit more time in the oven, but the developers were getting antsy so just went ahead and mashed the release button on the current version of Supermagical. And I'm glad they did. Brad and I sat down with the game today to explore its inner workings, and it quickly devolved from a gameplay demonstration into verbal attacks from Brad regarding my gaming skills and general apathy on his part. So you know, pretty much a normal TA Plays.
What I did discover from my time with Supermagical is that it's a solid bubble shooting game along the lines of Bust-A-Move, but with a thick coating of RPG trappings including different spells to create, special items to buy, and an interesting-so-far storyline to complement its colorful visual style. I can't wait to dig in deeper to Supermagical, and it will really be interesting to see how things shape up when the planned multiplayer modes launch down the road in updates.