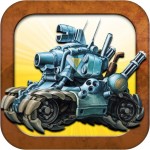 SNK Playmore has been on fire this year, with The King of Fighters-i 2012 ($0.99), the iOS version of their classic fighting franchise, hitting in May and two stellar NeoGeo ports, Metal Slug 3 ($2.99) and Blazing Star ($0.99), both released in July. A far cry from their only previous iOS effort, 2009's Metal Slug Touch, which was not very good and has since been pulled from the App Store (trust me, you aren't missing out on anything).
We especially enjoyed the iOS version of SNK's legendary Metal Slug 3, which we reviewed last month. It was a pixel-perfect rendition of the original that ran smoothly and even offered some new features like Game Center, a Mission mode, and some neat visual effect options.
As great as we thought Metal Slug 3 was, it did have some issues. The virtual controls could be tricky as you might expect, but they still worked remarkably well. An almost more annoying issue was the placement of the buttons onscreen, and how your fingers tended to obscure much of the action.
A new update has hit that aims to fix that by offering a new option for a windowed play area. It shrinks the entire game screen down and positions it in the upper middle of the screen. The border space that creates on the sides and below the screen are used for displaying the controls. It's a much friendlier setup as long as you don't mind playing with the smaller game area.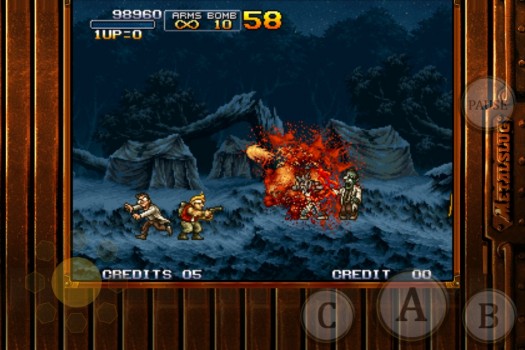 Another small complaint I had with the initial release of Metal Slug 3 was the lack of an auto-fire option. I understand that games like this were designed to be button mashers, but that doesn't translate to well to a touch screen. This new update makes auto-fire the default, and it pumps out so much lead it almost feels like cheating. In fact, now that I have an auto-fire option I find myself kind of missing tapping away wildly at the touch screen. Thankfully it's just an option so I can have it either way.
It's definitely kind of a minor update, but these new options in Metal Slug 3 are still very welcome. Also worth pointing out is that your settings are now saved when you exit the game, and I'm sure there's a bevy of other tweaks and fixes under the hood as well. If you have any sort of interest in 90s-era run-n-gun arcade shooters, then you need to be all over Metal Slug 3.