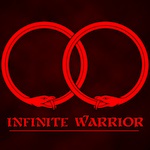 Earlier this morning, Eli and I spent some time with Infinite Warrior. It's an endless stabber that tasks you, as a beautifully muscled barbarian, with stabbing tons of bad dudes across a four Middle Ages-inspired levels. Bad guys' shields telegraph which direction you need to swipe in order to stab them best. Miss and you'll die, kinda like how you'd die in an endless runner if you smacked into a wall.
For whatever reason, when you stab dudes, you get gold. This, in turn, can be used to buy new weapons and armor that modify the amount of currency you earn and pump up your character's fury meter. Fury is a berserk mode of sorts, FYI.
You almost have to see this one to get a real feel for it, which is convenient since we've posted a video for you below. Infinite Warrior is as close to the ultimate Brad Nicholson Experience that you'll get on the App Store, so give it a look:
Infinite Warrior is slated for release across iPad, iPhone, and iPod Touch this September for $2.99.