Super Mole Escape (Free) just nails every aspect of what a casual mobile game should be, in that it's fun to play with much to unlock while you play it. It also helps that it has a little extra something that's often forgotten in these types of games: multiplayer.
In Super Mole Escape, you play as one of many mole convicts that are out to steal gems hidden deep underground. You have to tilt the device to control your mole further and further down, collecting these gems and bolstering through obstacles as you go, making it more and more challenging to continue on.
What makes the game particularly exciting is when you are given chase by trailing police officers that want to throw your mole in the slammer. At that point, the game hits a point of chaos that is intense and thrilling because every gem you collect may just be your last. There's little time to think in these situations, so every gem collected from that point on is an achievement in and of itself.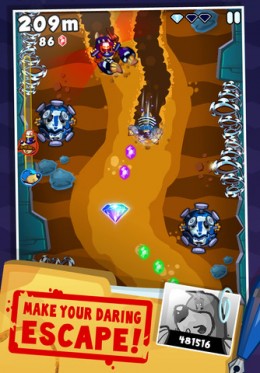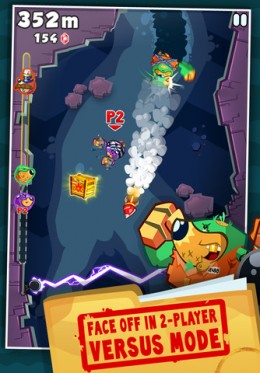 Your only saving grace when the chase is on is the different boosts and power-ups that you can use to break away. Boxes scattered throughout the trails have random items such as hammers for breaking rocks, speed boosts and missiles for taking out enemies. Using these items is as easy as tapping on the screen, but the decision of when to use them can be quite the dilemma. Boosts that can be attained by grabbing a whole row of gems are just as helpful, and tend to be more common than boxes.
As in many other games of this sort, you can use the gems collected while playing to make your character better, faster and stronger. The cost of upgrading these items seems fair, and can make a huge difference as you progress through the underground. Additional characters and more effective power-ups can also be bought, but do seem much less important.
Where Super Mole Escape breaks off from the pack of other endless runner types is its addition of a great multiplayer mode that compliments the style of play perfectly. Using Game Center, you can connect to anyone and race to the finish amidst even more chaos than before. Opponents can steal potential power-ups and gems from you, making it even harder to escape the cops, all the while making sure they're at the finish line long before you.
Without the addition of multiplayer, I'd find it easy to dismiss Super Mole Escape as yet another endless runner with more flash than substance. This multiplayer mode not only makes the game more chaotic and fun, it also adds substantial longevity to the game as well. Superb real-time multiplayer isn't seen much in the mobile space these days, and that's what makes the inclusion that much more special.
Super Mole Escape knows what it does well, and exploits it to its fullest. If you decide to take on the whole dollar it takes to download the game (and you should by the way), then be prepared for chaos and enjoyment because it has plenty of it.