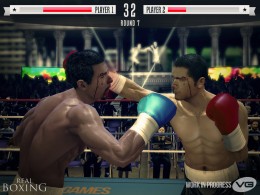 The guys at Vivid Games just dispatched a raven in our direction to tell us about their upcoming boxing game, cleverly titled Real Boxing. The game is coming later this year, and while there aren't many specifics to speak of yet, the guys at Vivid are quick to boast about all the details of the game. Not only is it powered by the Unreal engine, but the game was built using state of the art motion capture technology featuring real Polish professional boxers and realistic physics to tie all their moves together.
There's a full career mode where you can build up the stats of your boxer, plenty of unlockables to work towards, and what sounds like tons of customization for your fighter including everything from shoes all the way to tattoos. Check out the teaser trailer:
They're not talking release dates yet aside from "Q4", but there is mention of the game being optimized for iOS 6, so we're likely at least looking at after that launches. Hopefully there's still time for the inclusion of Brad Nicholson, our resident sweaty muscular man, although I'm not sure if the Unreal engine can accurately render his hair. I've got my fingers crossed.