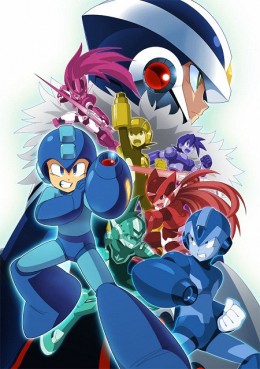 Capcom has attempted to bring their iconic blue hero Mega Man to iOS in the past. First there was a port of Mega Man II ($0.99), which wasn't so hot. It was technically a port of a feature phone version that had dumbed down gameplay, and obviously touch screen controls weren't the best option for one of the hardest platformers ever. To their credit, Capcom did release updates that offered better control options and a mode that more closely resembled the original NES version. Still, it was a criminal way to experience such a classic.
Then late last year we got an iOS version of Mega Man X ($4.99), another beloved classic in the series from the SNES era. It was far and away a better playing experience than Mega Man II on the touch screen, but I was not a fan of the new visuals at all. And it just felt sloppy. The expansive original levels had been chopped into sections making the game feel disjointed, and something didn't feel quite right with the controls. It was passable I guess, but I would have much rather had a solid port of the original.
Finally, as of this past April you could kick butt as the Blue Bomber in Marvel vs. Capcom 2 ($4.99), a port of the arcade classic that turned out to be pretty good, granted you could live without online play and didn't mind the dated graphics. Being comfortable with virtual button doesn't hurt either.
However, just because he made an appearance in an already great fighting game, Mega Man's presence on the App Store has been lackluster to say the least. I'm not so sure that's going to change with Capcom's latest upcoming offering either, titled Mega Man Xover (pronounced: Crossover). It's named as such because it will offer a cross section of previous Mega Man worlds. You'll be able to build your own Mega Man robot and then battle in the mean streets of a… social RPG? Yeah, apparently that's what this is.
I don't want to be quick to judge, but the last I checked I liked my Mega Man served with a side of inventive platforming design and frenetic shooting gameplay. Don't forget the giant robot enemies, unique bosses, and assortment of cool weapons. The last thing I want is Facebook integration or a dreaded form of in-game energy or something.
Based on the screens, it kind of looks like Mega Man Xover could even be an endless runner type game. That idea on paper actually doesn't sound half bad, but there's still a severe lack of a quality tradional style Mega Man game on iOS. I guess we'll find out when it hits Japan this fall. Whatever Mega Man Xover does turns out to be, I'll at least check it out and hope for the best, as I love that little blue guy so darn much. I just wish he'd quit breaking my heart on my iPhone.
[Polygon via Andriasang]