Double surprise! A new Kairosoft simulation game is available on the App Store. Oh, and it's also Universal, a feature that no Kairosoft game has launched with yet.
Cafeteria Nipponica ($4.99), as it's called, is a restaurant management game that tasks you with the role of chef, business dude, and floor manager as you flip a cafeteria from nothing to something. Along the way, you'll level up your underlings, discover new recipes, and do all the normal Kairosoft slow-burn "discovery" kind of stuff.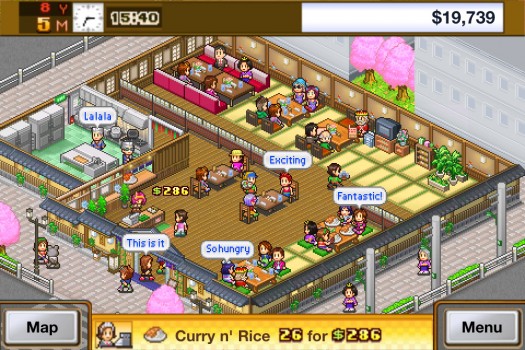 This latest release certainly doesn't appear to be breaking any molds from a structural or mechanical point of view, but we're sillily excited about diving into another Kairosoft game. It's been awhile, and hey, Universal support is cool, too.
[thanks, @WakeBoardMan10!]