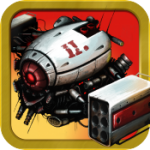 The latest update to Offworld Games' Legion of the Damned ($1.99) adds a friends list and invite-only games to multiplayer, as incorporates a cut-scene viewer into the game's campaign mode.
These additions help fix two of the flaws in this otherwise outstanding game. Legion is a game that appeals to a relatively hard-core TBS audience, and also sits at a higher-than average price point, so getting the details right is crucial.
The new friends list and invite systems work well, but online play is not Game Center (or OpenFeint) integrated, so you'll have to add your wargaming buddies individually.
Legion also suffered from imperfect integration of story with gameplay. In the beginning of the Campaign, it's not always clear how the game's well-executed cut-scenes relate to the battle you just fought, or the one you'll be fighting next. The new cut-scene viewer make it easy to refresh your memory.
Legion of the Damned was already a great strategy title, but this latest update does add some welcome features. We look forward to promised future updates that will include easier sharing and ranking of user-created maps.