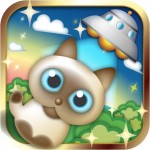 For the longest time, I had trouble understanding the phrase 'vomit rainbows'. Often used in conjunction with toxic-looking, multi-tiered cakes, it felt like a weird way to frame appreciation. But after playing Cats Away ($0.99), however, I now understand. ZigZaGame's newly released iOS title kinda makes me want to regurgitate a colorful natural phenomenon.
Described as 'Katamari Damacy meets Kittens and a Claw Machine', Cats Away is an almost aggressively adorable title and a meow-sogynist's nightmare given technological form. As you might have guessed from the title (and the description), the game has cats dripping out of every pore. Big cats. Small cats. Fat cats. Tiny, sparkly, calico cats. There's a wide variety of felines in this game and they all share one commonality: if someone doesn't do something, they're going to become feline flambe.
That's where you come in. You're a member of a cat-loving alien race dedicated to the idea of rescuing these four-legged furballs. Armed with nothing but your spaceship and the ubiquitous tractor beam (what alien vehicle is complete without one?), you're going to have purr-loin as many Persian pretties as you can within the allocated time frame.
The controls here are simplistic and responsive. To navigate across the screen, you'll have to swipe across your iOS device. To activate the tractor beam, you simply need to hold down with a finger. A quick warning: weight does matter here. Before you can make off with the biggest bounties, you're going to have to level up your tractor beam first, something that can be accomplished when you suck up a sufficient amount of small kittens.
There are the mandatory power-ups as well, of course. Normally found within bushes or little mud houses, these power-ups will do everything from improving your tractor beam to unleashing a squadron of black cats. Why? We're not sure, but it's more felines for the pickings.
Before you start worrying about whether or not you'd be named an accomplice in animal cruelty, none of the planets actually get blown up. You'll get to revisit them as much as you like. The only real antagonist in Cats Away is the high score sitting smugly above yours.
Cats Away is adorable in an almost overwhelming sort of ways. The kittens are small, the protesting expressions are cute, the worlds are brightly-colored and the tiny mews you elicit in your endeavors could possibly melt a heart of stone. Of course, that's only if you really, really like cats. Otherwise, this may have you gagging on a hairball.
Filled with all the hallmarks of the 'just one more round!' genre, Cats Away is a warm, fuzzy experience that demands little in the way of time investment. There's a whole bunch of things to unlock and, naturally, an IAP model that constantly teases you with easy access to all the shiny things lurking just outside of your reach. ("Want that new spaceship? All you have to do is pay X amount. That's all you need to do..") Fortunately, the game is largely playable without the need for unneccessary expenditure.
Long story short, if you have a weakness for cute things or cats, Cats Away is definitely worth the low price of entry.