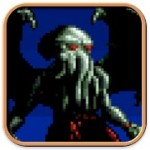 If TinkerHouse Games' port of Zeboyd Games' Cthulhu Saves the World ($1.99) left you ready for a padded cell and shock treatment, the doctor will see you now.
The port of this highly acclaimed retro-RPG came out with a swipe-to-move system many players hated, crash problems (especially on jailbroken hardware, it seems), and eye-straining text on iPhones and iPod touches.
The patch adds a d-pad and makes it default (you can switch back to swipe movement if you wish), fixes those nasty crashes, and changes the font on smaller retina devices.
The first two fixes are spot on, and the font change is probably the best compromise possible: the old, 16-bit RPG is replaced with a laser-sharp sans-serif. The text is still the same size, but the new font maximizes readability at that size.
iPad users get to keep the more thematic font, so the only loss on the deal is for players who preferred the SNES-like font on their iPhones (there is no option to toggle font). Game icons (menu and walk/run) are also sharper and simpler, and game will now match the orientation of your device – the original release had fixed screen orientation.