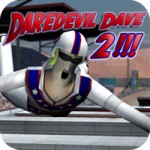 In May of 2010 one man indie developer M-Digital Media released their first iOS game Daredevil Dave: Motorcycle Stuntman! ($0.99), and it was noteworthy for several reasons. First, it was the product of a TouchArcade forum member who had been active in our community since almost the beginning and set out to create his own game from scratch, and we thought that was pretty cool.
Second and even more important is that Daredevil Dave was actually a total blast to play. It came at a time when there wasn't the flood of motorcycle stunt games on the App Store that we have nowadays, so it was pretty novel. Also, the cleverly designed levels made for a great shot of adrenaline when you conquered one, and made for spectacularly awesome crash sequences when you didn't.
Finally, the personality, humor and level of detail in Daredevil Dave came through in spades. From Dave's gruff one-liners to subtle jokes hidden in thel backgrounds, Daredevil Dave was a game that just plain made you smile when you played it. Despite some rough edges, it could have qualified as an official Super Dave Osborne iPhone game if important matters like that were left up to me to decide (they should be).
So Daredevil Dave was a fun little game that people seemed to really enjoy, and it actually did quite well in the charts, too. That means that after more than 2 years, Daredevil Dave is set to rise again with the appropriately but tentatively titled Daredevil Dave 2. Check out the very first bit of gameplay footage from an early version of the game.
Daredevil Dave 2 looks to offer more of what made the first game fun plus some nice new additions, like improved crashing with bike and environment damage, bigger and better jumps, the return of the popular Injury Mode plus a secret new mode, tons of cool new camera angles, and more control over Dave's steering during jumps. Among many other things. Whew, that's a lot of stuff!
There's no firm release date for Daredevil Dave 2, but it sounds like the goal is to get it out sometime this year. When more info hits we'll be sure to let you know, and you can jump in on the discussion in our forums in the meantime.